The World Turned Upside Down
Hello loveliest, most wonderful readers,
I know, it really shouldn't take a global pandemic for me to return to my Neglected Blog (that's the official title now), but here I am — in my house (all the time! forever!), and thinking about all of you and how you're doing and what a few dragons might do to help.  I'm supposed to be writing Book 14 (I mean…I AM writing Book 14!) but mostly I just want to reach through my computer and hug you all and send you books and ask if you're OK.  Are you OK?  Washing your hands?  Staying safe?  Figuring out online distance learning?  Reading lots of books?
It's really strange to go straight from a book tour into quarantine/isolation.  There were so MANY hugs and new faces and varied places for a week there in March, and now I have three faces (five if the puppies count; 463 if the snails count!) and one place all the time (still lots of hugs, though — that is the other thing I want to do all day: hug my bears!). 
I'm very lucky that at least I'm quarantined with my three favorite people, and that I am a hermit at heart who could happily stay home in my pyjamas for months.  🙂  Plus also it turns out I am married to someone who is SO READY to fulfill his doomsday prepper destiny!  We have so many lentils!  He figured out how to make our own matzah for Passover!  (It's way better than store-bought matzah, so I'm afraid that's now his job for every future Passover, silver lining alert.)  He's trying to figure out how to grow vegetables in our small, rabbit-happy garden!  (We'll see how this goes!)  I have to watch him closely, or else I'm afraid goats and chickens are going to suddenly apparate in our backyard.  🙂
We are also figuring out online/home school, like everybody, which so far has been an endless stream of "Mommy, print this for me," and "Mommy, what are the twenty different logins and passwords for all these links" and "Mommy, WHY IS IT ONLY PRINTING IN ARIAL INSTEAD OF THE EXACT FONT I WANT AAAAAACK THIS IS THE MOST IMPORTANT THING WE HAVE TO FIGURE OUT TODAY," and "Mommy, I forgot what a topic sentence is, stay here and explain it to me again while I lie on the kitchen floor grumbling about being bored," and "Mommy, look, I figured out how to change my name in the Zoom meeting with the whole class!  Look, now my name is I Have No Pants On!  No, wait, it's MY BUTT!  Ha ha ha ha ha Mommy why are you making That Face again?"
I must admit my "teaching philosophy" is essentially "if you just read a lot, you'll be fine," so all I ever want to do is quiet reading time!  But our teachers are trying so hard and being so wonderful — I can't imagine how hard it must be to try to teach your class through a computer, especially if you have your own kids at home who maybe also have a million questions about all their assignments.  
Our favorite assignment this week was from our super-wonderful school librarian, who taught them about Book Spine Poetry, which got everyone here very excited and resulted in approximately eight thousand of our books getting pulled off the shelves and scattered about, but was totally worth it.  Here are two by the kids:
And here's mine:
It was pretty obsessively fun, at least for three people who've been trapped inside for quite a long time!  😉
Next Saturday, April 25, was supposed to be Independent Bookstore Day, and I was planning to be at a new independent bookstore called High Five Books in Florence, Massachusetts, to celebrate.  I'm so sad I can't be there, and I keep thinking of all the independent bookstores that I've visited and loved over the years — so I thought maybe for this week I'd try to post each day about a couple of books I love and some of the wonderful bookstores where you can buy books online and keep supporting them, even while their doors are closed.
For starters, you can look for your favorite bookstore on Bookshop.org — if you start at their landing page and order from there, the bookstore gets 30% of the total.  And in fact, if you go to High Five Books' main page, you can find a list of some of my favorite middle-grade and YA books (including lots of great graphic novels!) that I've read in the last few years — hopefully you'll find a few that you'd like, too!
You can also always find your closest indie bookstores by going to Indiebound.org and searching around your area.  And there's a great list here that includes what various bookstores are offering — you can also get audiobooks from most of them using Libro.fm, sometimes e-books, or of course gift cards — and some are offering free or discounted shipping when you order directly from them. 
Whatever you can do, I hope you'll consider supporting an indie bookstore when you're looking for new books — they're such wonderful places, run by the sweetest people in the world, and you can make a difference in keeping them alive so that they'll still exist when all this is over!
Another way to help them, if you're so inclined, is to donate to BINC, the Book Industry Charitable Foundation, which is working hard to save independent bookstores all across the country.
OK, to wrap up, I'll just mention a couple of books you might be interested in (there were a lot in my last post…which was in 2018 MY GOODNESS…so I tried to find a few I haven't mentioned before!):
A YA Book: On a Sunbeam, by Tillie Walden
What a weird, lovely, fascinating, astonishing book this is — it's a graphic novel, set in space, with lots of fantastic female characters being awesome in different ways, and it's funny and complicated and unexpected.  I LOVE IT, and I think you would, too!
A Book for Grown-Ups: The Invisible Library, by Genevieve Cogman
I've never been so excited to discover that a book is the first of a series — in this case, about a Librarian who travels to alternate universes to collect copies of books for a central Library that don't exist elsewhere, like one where Charles Dickens finished the Mystery of Edwin Drood, or where there's another Jane Austen book, things like that.  The world-building and characters are super fun and well done, and it's a great other world to immerse yourself in!
And Two Middle-Grade Books That Just Came Out, so I haven't read them yet, but I AM SUPER EXCITED TO:
Prairie Lotus, by Linda Sue Park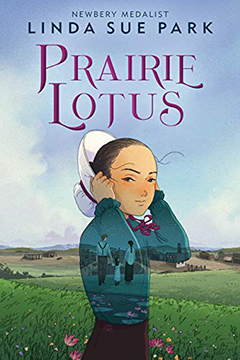 The List of Things That Will Not Change, by Rebecca Stead
Finally, here are two of my favorite independent bookstores, both of which you can order from directly:
Belmont Books in Massachusetts
Water Street Bookstore in New Hampshire
More coming soon!  I'm sending you all love and a million (very safe) hugs and hoping you're all doing OK!  
What We're Reading:
Me:  Big Sky, by Kate Atkinson, Tristan Strong Punches a Hole in the Sky, by Kwame Mbalia, and Refugee, by Alan Gratz
With my bigger bear: Cold Cereal, by Adam Rex
With my littler bear: Ballet Shoes, by Noel Streatfeild
With both bears: The Incredibly Dead Pets of Rex Dexter, by Aaron Reynolds