An Excellent Time to Buy More Books (Says Starflight) (Every Day) (Moon and Cricket Concur)
Hello lovely readers!
Today I told the family that I think for Star Wars Day (May 4th!) we should pull out the sofa bed and snuggle and binge-watch as many Star Wars movies in a day as we can. Adam was HORRIFIED, but the kids are completely on board, so I think that's three against one! Mwa ha ha! Democratic anarchy wins!
(Poor outvoted Adam is opposed to the entire concept of binge-watching. He has preternatural levels of self-control, which is mostly useful because it balances out my total lack of it, but can also be dreadful, such as for instance when he didn't buy an adequate supply of Ben & Jerry's to get us through the pandemic.) (But he made me banana frozen yogurt to make up for it! Which is…not quite the same as Phish Food, but I will nobly eat it anyway.) 😉
I don't know what we're going to do this weekend, though. Quarantine weekends are hard! Do you guys find that's true, too? At least during the week we have a whole school schedule and assignments and online classes to get through.
Oh, I know, I can spend the weekend figuring out Instagram! I have so much dragon art to post! 🙂 Although it's sort of hilarious to do that when it turns out Instagram is FULL of amazing dragons already — you guys! How are you so talented? It is distractingly marvelous, but like, in a good way, because it makes me want to go write about all these dragons. (So if Book 14 ever does get finished, it'll be totally because of you!)
Speaking of talented people, I somehow totally missed that the THIRD book (The Chaos Curse!) in the Kiranmala and the Kingdom Beyond series came out in March! I haven't even had a chance to read Book 2 (Game of Stars) yet, but I loved The Serpent's Secret and I adore the author, Sayantani DasGupta.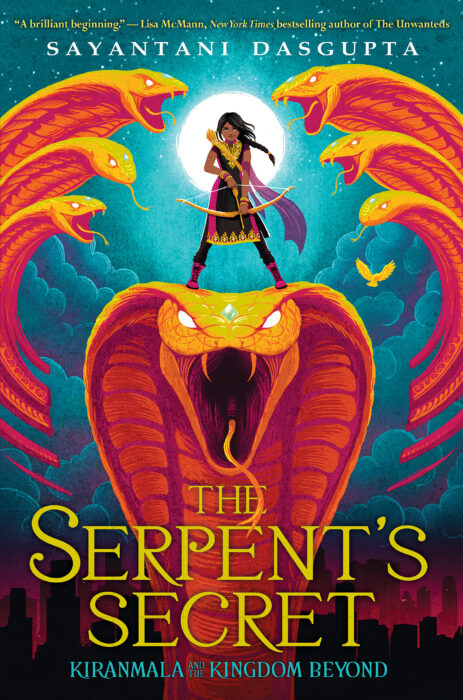 I think my blurb for the first book was: "This funny, unique book feels like the spirit of A Wrinkle in Time married the awesomeness of Bengali folktales and had the coolest, fiercest Indian princess – so much fun! Can Kiranmala save the rest of us next?"
And now there are three of them, it sounds like a perfect way to escape the world for a while! 🙂 Adding to my next indie bookstore order…
Or another option I highly recommend, more in the adult/YA category is:
Spinning Silver, by Naomi Novik
I see from searching my blog that I have raved about Naomi's Temeraire series lots of times (I mean, it is AWESOME and FULL OF EXCELLENT DRAGONS), but I somehow have never told you how much I also loved Uprooted, her first kind-of-fairy-tale-retelling. And her second, Spinning Silver, which is kind of Rumpelstiltskin-inspired, is SO GREAT — the kind of book that makes me feel like, how does anyone write a book like this? How is her brain so brilliant? It has the BEST heroines (as does Uprooted) and extremely cool magic and unexpected twists. Both of these are technically adult books, with some adult-ish scenes in Uprooted especially, but I think most teenagers could handle them!
Something Making Us Happy Right Now: So, I must admit, I don't have the world's best memory — that is, I have a fantastic short-term memory, but apparently my brain does a vigorous decluttering every ten days or so, Marie-Kondo-style, and so anything that happened before then is gone! Forever! But there are a few places I've been / events I've done that were so wonderful they managed to imprint on my brain, and one of those was my trip to Traverse City, Michigan, in March 2016, for their Battle of the Books, part of the National Writers Series. (Ooo, look, I even blogged about it at the time!)
I was interviewed by the absolute funniest, coolest person, Brianne Farley, who was an instant kindred spirit. She also writes and illustrates picture books, which everyone should run out and buy (from an independent bookstore! such as for instance maybe Horizon Books in Traverse City!):
Actually, it looks like you can still watch my interview with Brianne on the National Writers Series website — go to page 7 and there we are! That is, if you happen to be trapped inside right now for some reason, and would like to listen to me ramble on for fifty minutes about Peril and Darkstalker and growing up in Paraguay, I have all your interviews-from-four-years-ago needs covered! 😉
It was so much fun that I could seriously have spent at least another hour chatting with Brianne, and it was really wonderful to meet Anne and Doug Stanton, too, who founded the NWS. (Doug also writes great historical nonfiction; my dad and I both really liked his books!)
But wait, rewatching this interview is not the thing currently making me happy (although it did!) — the thing I am ACTUALLY here to tell you about is that while I was there, I met an awesome family who run a cafe/bakery called Morsels, where they make these little awesome cake/cookie bites. They're closed right now because of the pandemic, but they are still baking morsels and shipping boxes all over the country, so we've been ordering a box every week or so, and it is THE GREATEST THING. This is what's really helping me survive without ice cream! Plus every time the kids and I get grumpy or squirrelly about online schoolwork or anything else, I'll be like, "let's have a morsel!" (or occasionally "STOP FIGHTING OR I SWEAR I WILL EAT ALL THESE MORSELS RIGHT NOW AND YOU WON'T GET ANY") and it cheers us all right up. 🙂 🙂 🙂
So it may seem like I'm supporting this wonderful family-owned small business (and telling you that you could, too!), but in actual fact, they are supporting me, with sugar and sheer awesomeness. Which means actually probably they should get the credit if Book 14 ever gets finished. Hmmmmm.
AND right NOW they are doing a limited run of STAR WARS-THEMED MORSELS! Oh my GOODNESS!
Did this essentially inspire my Star Wars binge watch plans? Am I planning to eat them all day while we watch the movies, which will definitely make Adam's head explode? (Indolence AND sugar! Sloth AND chocolate cake!) Yes, and yes I am. 🙂 🙂 🙂
Finally, here are two more wonderful indie bookstores:
The Novel Neighbor in St. Louis, Missouri
Anderson's Bookshops in Illinois
All right, it is super late, so I should post this and go to bed! Tomorrow (Saturday) I will be moping about not being at an indepedent bookstore to celebrate Independent Bookstore Day, and then probably buying a new boatload of books from some more of my favorites to compensate. 🙂 Stay safe, and happy reading! 🙂