Monsters Named Mary, Dogs Named Banana, Mapmakers, Shadowshapers, and More
Hi lovely readers!
So as I've mentioned, a few weekends ago I zipped off to Decatur, Georgia, for the 2015 Decatur Book Festival, which it turns out is enormous and amazing!  I wish I could have been there longer so I could have gone to other panels — there were so many authors I adore there.
But I was lucky enough to be on one panel and moderate another, and I was even MORE lucky that all the other authors involved were SO WONDERFUL — both as writers and as people!
I'll start with the one I moderated: Best Friends Forever!

That's me, Terra Elan McVoy, Abby Hanlon, and Anica Mrose Rissi
Moderating is so much fun — I get to ask all the nosy questions I always wonder about as I'm reading!  And in this case I loved all their books, so now I can tell you all to go read them, starting with:

Dory Fantasmagory and Dory and the Real True Friend, by Abby Hanlon
I want to hug these books forever, I love them so much.  Dory is the MOST hilarious six-year-old, with imaginary friends (like her monster Mary) and imaginary enemies (like Mrs. Gobble Grackle!) everywhere.  What I love is how real she sounds — this is exactly how my kids talk!

The Anna, Banana series by Anica Mrose Rissi
Anna and her dog Banana are the sweetest characters, dealing with the ups and downs of friendship in third grade — things like the best friend who suddenly stops speaking to you, or being torn between two friends.  It's perfect for young readers who are just discovering that friendship can be tricky, and the third book in the series, Anna, Banana, and the Big-Mouth Bet is out now, too!

Drive Me Crazy, by Terra Elan McVoy
The girls in this book are actually (newly) cousins and twelve years old, and stuck on a road trip together with their grandparents, trying to figure out if they can be friends or not.  My favorite part of this book was the texting subplot, where one of the girls keeps trying to text with her friends back home…I mean, I totally understand that addiction!  No spoilers here, but I really liked what ended up happening with those "friends", sort of by accident (or providential grandmother-intervention!).
I also read one of Terra's other books, partly because I couldn't resist the title:
This one is a teen book and really fun — it would be great for anyone who loves music (lots of believable teen band shenanigans! and awesome lyrics-writing scenes), plus of course it has a ton of awesome relationship stuff in it.

Woo hoo!  Best friends forever!  🙂
Next up, the panel I was on:  Building New Worlds!

Our fearless moderator Justin Colussy-Estes, me, Cassie Beasley, S.E. Grove, and Lou Anders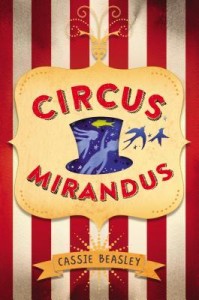 Circus Mirandus, by Cassie Beasley
(This book is the reason there's a circus tent on stage with us!)  Circus Mirandus is a lovely, sad, gentle book about a magic circus that comes to town to help 10-year-old Micah when his grandfather gets sick.  I love Micah's skill with knots, his smart and loyal best friend Jenny, the lightbending magician, the invisible tiger, and most of all the genius elephant that lives at the circus!

The Thrones and Bones series by Lou Anders
Frost giants!  Wyverns!  Sinister warrior women who fly around on wyverns!  An awesome tough part-giant girl and a clever boy obsessed with board games!  Wings of Fire fans, doesn't this sound like a series we'd all love?

The Mapmakers trilogy by S.E. Grove
Oh, you guys, I LOVED these books.  I am in AWE of these books.  And I kind of desperately need book three right now!  They're so intricate and smart and unique, it's almost impossible to describe them . . . but if you love The Golden Compass, or smart-girl heroines, or really cool unusual magic, or well-thought-out alternate worlds, or wonderful writing, I bet you'll love these books too!
And finally, two fellow Scholastic authors I got to hang out with:

Space Dumplins by Craig Thompson
I'm curious and thrilled by the awesome-girls-in-space graphic novel phenomenon (yes thank you and more please!), and this particular awesome girl, Violet, is definitely someone that fans of Zita and Cleopatra will love (all the ones in my house did!).  Plus it's funny, and there are enormous dangerous space whales!

Shadowshaper, by Daniel Jose Older
I haven't finished this YA book yet, but so far it is glorious (and totally worthy of this amazing cover!), and I think everyone should read it!  Art plus superpowers plus New York City plus authentically diverse characters plus awesome writing plus lurking evil — so many of my favorite things!
Final picture from the festival:

Because if there is a tent on stage, clearly someone has to end up inside it  🙂
All right, this post has only taken me DAYS to finish; I'd better go post it and do some real writing!  More soon!  🙂
What We're Reading:
Me:  All the Light We Cannot See, by Anthony Doerr
With my bigger bear: Dory Fantasmagory, by Abby Hanlon, and the Jack Stalwart series by Elizabeth Singer Hunt
With my littler bear:  Last Stop on Market Street, by Matt de la Peña, illustrated by Christian Robinson