Wings of Fire Secrets and Bookstore Events!
Hello wonderful readers!
We've added another event for this weekend!  So if you can't make it to one, please come to the other!  Here are all the details:
WORLDS OF MAGIC: Authors Sage Blackwood, Tui T. Sutherland, and Christine Taylor-Butler will be reading, signing, and answering questions about their new fantasy books.  Come hear about sentient magical forests, telepathic dragons, and a computer game that sets off a quest to save the universe!  
Saturday, March 28 at 2pm at Newtonville Books in Newton, MA
Sunday, March 29 at 2pm at Water Street Bookstore in Exeter, NH
I am really excited about these (I know, I'm always excited about everything, but seriously, their books are SO GREAT, you guys, and these are two of the most wonderful bookstores I've ever been to!) — so I really really hope you can come!
I promise to read something from Book Seven: Winter Turning!  The very first sneak peek to tide you over until June!  And I'll also be talking about the third Menagerie book, now that it's out, hooray!
In other news, I posted some behind-the-scenes secrets about writing Moon Rising on the Wings of Fire forums, where I'll also be going back to answer questions (and drop hints about book seven!) for the next week or so.  So check it out if you're curious about my writing process or IceWings or anything else!
Finally, I just wanted to say that Worlds Collide Con was SO MUCH FUN and thank you thank you to everyone who came!  (Happy birthday again, Magdalena!)  It was amazing to meet you all — I hope you enjoyed it, too!  Here's a photo of Michael Northrop, me, and Peter Lerangis doing crazy Readers' Theater: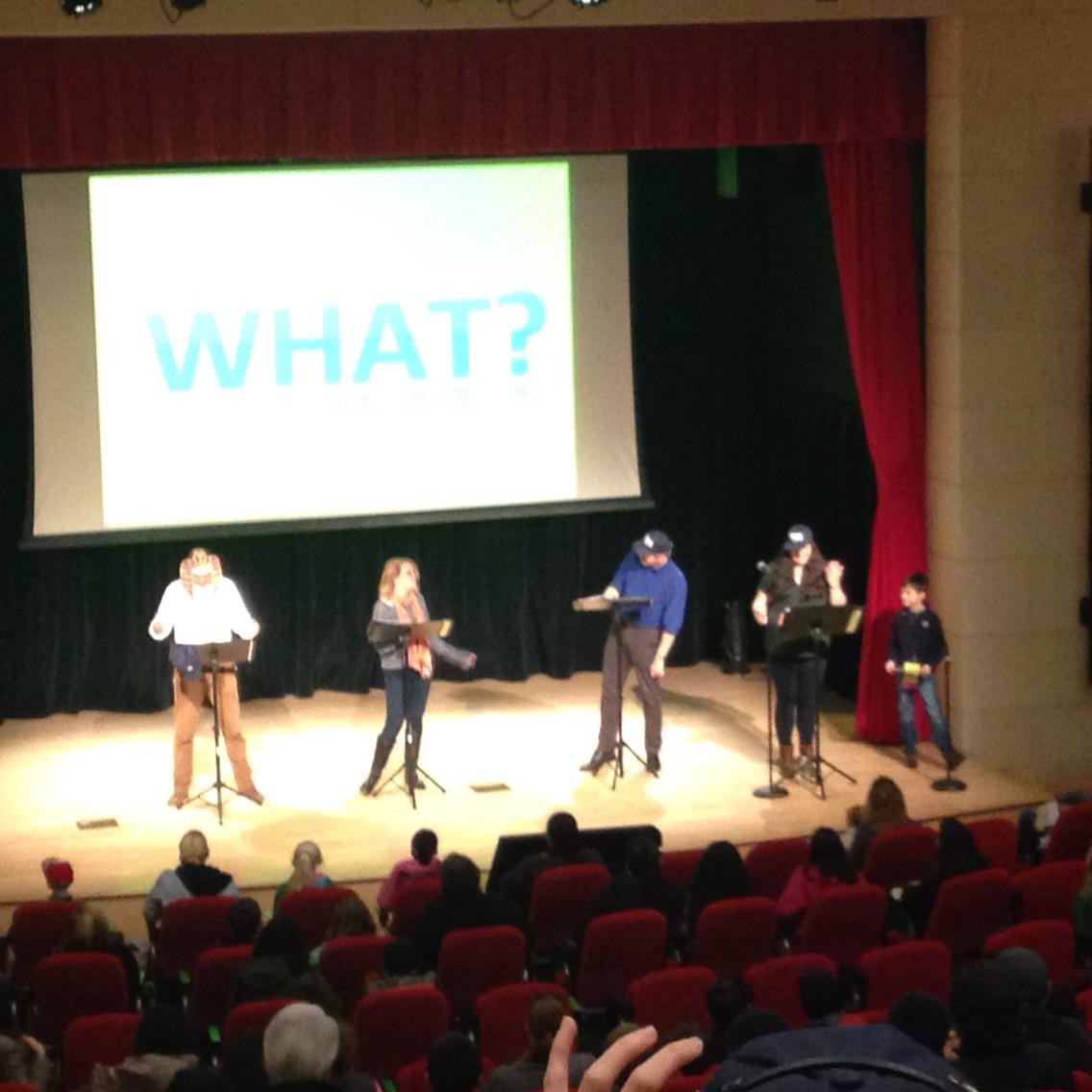 Hee!  Too funny.  I wish I could hang out with other authors and awesome fans and lovely publishing people every day (but then I guess I wouldn't get any writing done!).  🙂

Speaking of which . . . Peril is calling me back to book eight, so I'd better go (she does NOT like to be ignored!).  Fingers crossed for seeing some of you guys at the events this weekend!  Also, fingers crossed that I'll have time for a proper blog that isn't all "come hang out with me!" sometime soon.  😉

What We're Reading:
Me:  The Lost Tribes (yay!), by Christine Taylor-Butler and Big Little Lies (this is head-explodingly amazing), by Liane Moriarty

With my bigger bear: Cleopatra in Space, by Mike Maihack  🙂

With both bears:  Fairy Tale Comics: Classic Tales Told by Extraordinary Cartoonists (love love love love love)